About
Complete Pet Care's Guiding Principles for Exceptional Pet Care
Complete Pet Care is your neighborhood veterinary hospital and emergency veterinary hospital. We partner with pet owners in Raleigh, Wake Forest, and surrounding areas to keep your pets happy and healthy for as long as possible.
From physical exams to grooming and boarding, from sick visits to emergency surgery, from nutrition counseling to end-of-life care, our #1 priority is delivering top-notch, compassionate care and medical expertise.
We demonstrate our dedication to you and your pets through our unwavering commitment to outstanding pet care that you can trust. Our entire staff provides this commitment to excellence in our approach to patient care and the services we offer to our clients and their pets.
Contact us today to discover how we can help with your emergency veterinary hospital needs.
Core Values that Put Your Pet First
Complete Pet Care wants pet owners and their pets in Raleigh, Wake Forest, and the surrounding areas to have access to the best pet care possible. We use the following core values to drive our services and decisions each and every day for all the pets we treat:
Hospital Excellence
There are standards for pet hospital care, and then there's the care provided by our team at Complete Pet Care Animal Hospital. We go above and beyond the minimum necessary and exceed the standards of our profession in all aspects of veterinary care principles. We do this because we know you look to us to help you care for your pets, and we want to do our best to ensure that you and your pets are able to spend quality time together for as long as possible.
Dedication to Serving Pet Owners and Pets
For the pet owners who choose Complete Pet Care, we are known for exceeding expectations in all of our service areas. Since we see ourselves as partners with pet owners, our entire team of veterinarians and other staff are respectful, nonjudgmental, straightforward and compassionate at all times. Your needs and your pet's needs are always our top priority.
Trusted Pet Owner Education
Look to your neighborhood veterinarian to help you care for your pet. Our services always include pet owner education so that you know the best way to groom your pet, the best food to feed your pet, and the best choices to make to keep your pet healthy. We are your trusted source of knowledge because we provide continual education. This ongoing learning process offers you the opportunity to enhance the quality of your pet's life and increase the number of healthy years you will have together.
Positive Work Environment
Every person who interacts with your pet at Complete Pet Care is part of a collaborative work environment, designed to encourage all team members to openly and clearly communicate. We work together to find the best service or solution for your pet. We encourage respect and dignity for all team members and empower them to work independently as well as to seek support if that's what's needed for your pet's best care.
Ongoing Improvement
Improvement at Complete Pet Care is a way of life: it's constant and never-ending. We stay focused on the top priority — your pet's health — and we're always creating and implementing new ways to enhance our skills, your experience, and the services we offer. We continue improving so we can continue providing the best pet care possible to pets in Raleigh, Wake Forest, and surrounding areas.
Commitment to our Purpose
Our purpose is in our name: "Complete Pet Care." We're committed to providing complete pet care at all times. We  apply best medical practices, as well as best business practices, to meet this commitment. By operating as a team, Complete Pet Care Animal Hospital has become known for our caring hearts, compassionate minds, and clinical excellence.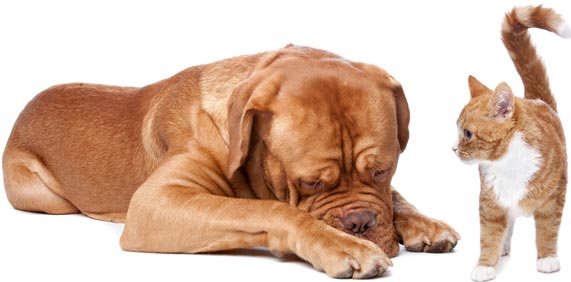 You Can Trust Our Raleigh and Wake Forest Veterinarians and Team with Your Pet
We are dedicated to celebrating and enriching the bond between pets and their pet parents, whether that requires wellness visits, grooming or an emergency veterinary hospital. If you're in Raleigh, Wake Forest, or one of the surrounding areas, you will find that trust and comfort in Complete Pet Care Animal Hospital. We're dedicated to our core values.
We have become one of the top animal hospitals in the region by being continually committed to our purpose. Contact Complete Pet Care for your pet's care whenever you need it — day or night.