24-Hour Emergency Pet Hospital
Complete Pet Care is here for you 24/7 to care for your pets. We  always have a doctor on call if you have an emergency outside our regular operating hours.
If need be, we also partner with other institutions in the area when an illness is best cared for by a team approach.
Call Now for Emergency Pet Care
How to Know When It's a Pet Emergency
Contact us today to discover how we can help with your emergency pet hospital needs.
As a pet owner, you know there can be a fine line between just a bellyache and an emergency. And in an emergency, every second counts. Here's how to know when it's a pet emergency and when you should seek the help of an emergency pet hospital:
Trauma-related injuries
such as broken bones or a deep wound that's bleeding profusely
Bleeding from the eyes, nose or mouth
which can indicate a serious infection or illness
Signs of extreme pain or disorientation
such as making unusual noises for a long time or being unable to maintain balance
Symptoms of heatstroke
including unusual restlessness, heavy panting, deep breathing, excessive saliva, weakness, confusion and vomiting or diarrhea
Unconsciousness or abnormal heartbeat
Vomiting or diarrhea
if either persists for over 24 hours
Delivery complications
such as stalled delivery or visual indicators of excessive pain for your pet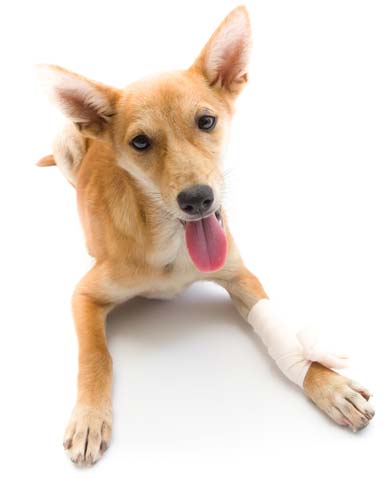 Taking Care of Pet Injuries in Raleigh, Wake Forest and Surrounding Areas
Regardless of how much training your pet has, they're still animals. And sometimes they don't understand that they shouldn't run, jump or fly in a dangerous situation or eat something that's possibly poisonous.
If you do end up with a sick or injured pet, our team at Complete Pet Care Animal Hospital is available and ready to quickly respond to any emergency. We provide high-quality treatment for pet injuries at both our Raleigh and Wake Forest locations.
Our experienced veterinarians have seen and treated it all — from leg injuries to tail injuries and everything in between — and nothing stops us from providing your pet with the care they need when they need it. Our ultimate goal is to send your pet happily on their way back home with you!
Treating Pet Injuries and Illnesses
Our team at Complete Pet Care Animal Hospital understands how scary it is when you have a sick or injured pet, and it's easy to become shaken by the event. As pet care professionals and pet owners ourselves, we know how important it is to respond to pet emergencies promptly. We offer emergency services to ensure that the treatment can begin as soon as possible and that your pet's recovery goes smoothly. These are examples of some of the more common pet injuries in Raleigh, Wake Forest and the surrounding areas that we treat:
Ingestion of a foreign body, such as a small toy, a sock or a piece of plastic
Getting hit by a car
Bites from other animals such as another cat or dog
Poisoning
Heatstroke or dehydration
No pet injury is too big or small to treat. Whether it requires minimally invasive surgery, major surgery or a few stitches, you can rely on your Complete Pet Care team to provide the best care available because of our experience both as medical professionals and as pet owners.
Contact Complete Pet Care Animal Hospital for Pet Injury Care in Raleigh, Wake Forest and Surrounding Areas