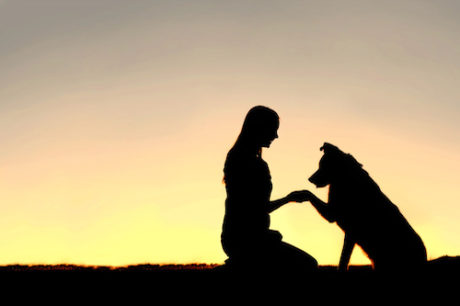 "Dog for sale!" reads the sign. You think it may be time to consider cat or dog adoption, but you know it's a complex decision and not as simple as it sounds. Before you head to the shelter to adopt a dog or cat, consider some of the following items.
#1: Your Home Environment
Think about where you live and who lives there, first. Do you have other pets? How will your existing pets react to your new pet adoption? The type of place where you live and the amount of space for your new pet are important, too. Do you have a plan in place for how you'll take care of your new pet when you travel, or when social or work obligations require you to be away from your pet for extended hours? Are the people you live with, including any children, OK with the idea of your new pet, and does anyone have any known allergies? Are any health issues likely to be impacted by a new pet? Asthma and other respiratory issues especially may be of concern. Ultimately, the important question to ask if you're considering cat or dog adoption for a child is if there is an adult who will be the responsible party if a child should be unable to keep up with the responsibilities of pet ownership.
#2: Your Reasons for Getting a Pet
Before you settle on your new pet, think about what you want pet ownership to bring to your life. Do you want a pet who will go on long walks with you, or even runs, or do you prefer an animal who will spend time on your lap? You may even want both! Do you have the time to invest in training a young cat to use the litter box, or a young dog to walk on a leash, or would you prefer to adopt a dog or cat who is older and already trained? Have you settled on taking your new furry friend with you when you travel? If so, you'll want to choose an older animal already proven as a good traveler, or a breed or type known for handling travel easily. Choose a pet of a size that you can easily integrate into your home and life. Don't select a dog too big for your apartment, or a small cat when you really want a pet who plays fetch!
#3: Your Financial Situation
Pet adoption does involve costs, and these are important to consider as well. Though the upfront costs of pet adoption may seem cut-and-dried, taking care of a new dog or cat involves additional costs within the first few days, weeks and months, as well as ongoing maintenance costs that are all part of owning a pet! Some expenses beyond the initial adoption fee include:
Vet fees. Your pet may likely come to you having been spayed or neutered, as well as having received their first set of vaccines. What many pet owners don't know, however, is dogs and cats need several sets of vaccine boosters, each four weeks apart, to help them build up antibodies. A good rule of thumb for a new pet is to bring them to your vet within a week of adopting them. Your vet will be able to look at their vaccine records and tell you what they'll need going forward.
This may sound obvious, but just like humans, the nutrition a pet receives can make or break their health. Look for a high-quality food with a protein source as the first ingredient. Unfortunately, for pet food, just like many other things, quality will be reflected in price. If a price seems too good to be true, the food probably won't fuel your dog or cat in the best way they need to keep their systems healthy and fight off disease.
Other expenses to consider are upfront costs such as food and water bowls, collars or harnesses, leashes, grooming tools, a pet bed, toys, a carrier, or a crate. While you may not need all of these items for the pet you've selected, chances are high you'll need at least a few of them. Be sure that you meet the needs of the pet you're adopting. Though everyone's budget will vary, being able to access a few hundred dollars in an emergency – whether from a credit card or a family member – is a good thing to secure before adopting.
#4: Your Time
Finally, the most important element of any relationship, including one with your pet: time! Make sure you consider pet adoption carefully, with a pet's needs for time in mind. Dogs need to be fed two to three times a day, as well as have fresh water, while cats need to be fed once or twice a day, with continuous access to fresh water. Dogs and cats alike need around an hour of direct attention a day, and many long-haired breeds of both dogs and cats will need around twenty minutes of grooming daily to prevent painful matting from occurring. Pet adoption is not something to be considered lightly, especially in terms of time investment.