Bathing and Grooming
Keep Your Pet Clean and Healthy
Pets get dirty, just like humans. Pets who are active and spend a lot of time outdoors can get really dirty. Regardless of the extent of your pet's dirtiness or their fur texture — thick or thin, long or short, curly or straight — there's an experienced team of groomers at Complete Pet Care who can handle it. Finding great pet grooming in Raleigh, Wake Forest and the surrounding areas has never been easier.
Our team applies tender loving care and experience to all pets they groom, including indoor pets and outdoor pets. We offer the following grooming services:
Basic bathing with salon-grade shampoo
Thorough brushing
Nail trimming
Professional grooming
We also offer a pet spa at our Raleigh location, where your dogs and cats are treated like the kings and queens they are by our expert grooming team.
Contact us today to discover how we can help with your pet grooming salon needs.
If your pet is looking dirty and smelling a bit off, it's probably time for a cleaning. It's important to note that even if your pet doesn't look dirty and stays indoors with you most of the time, regular grooming is important for their health.
The health benefits of taking your pet to a pet grooming salon include:
Keeping the fur healthy so it doesn't become matted and uncomfortable for your pet
Creating an opportunity for you to discover lumps or injuries that you didn't notice before, and get your pet the treatment they need quicker
Allowing you to get a close look for bugs, such as ticks or fleas, that may have attached to your pet and remove them as soon as possible
Removing dead skin cells, hair and dirt while distributing healthy oils that your pet's fur needs
Regular, Professional Pet Grooming Services in Raleigh, Wake Forest and Surrounding Areas
Good cat or dog grooming habits start early. Our veterinarians at Complete Pet Care recommend making grooming a habit with your pet when they're young to get them accustomed to it.
Ways to prepare your pet to be groomed by a professional at our Raleigh or Wake Forest location include:
Brushing their fur with a pet brush or comb
Bathing them with pet shampoo and water
Brushing their teeth and other dental care
Trimming their nails when they begin to get too long, so your pet can walk comfortably
By performing this grooming at home, you help your pet understand that they can trust people to touch and handle their feet, ears and skin. You also help them learn that the act of grooming, although it causes discomfort, does not pose any danger to them. When you teach your pets these lessons at home, their experience at a pet grooming salon will be easier for them to understand.
The definition of "regular grooming" varies by breed and species. Examples include:
Poodles and hairier breeds typically need to be groomed or trimmed every 4 to 6 weeks
Other breeds with short hair, such as pugs or Chihuahuas, may be bathed less frequently
Grooming a cat may include daily brushing
Our grooming staff, which includes professionals who have groomed many different types of pets, can work with you to determine the best grooming methods and schedule for your individual pet. We consider your pet's breed, age, lifestyle and any existing skin or fur conditions and find a grooming schedule that works for you and them.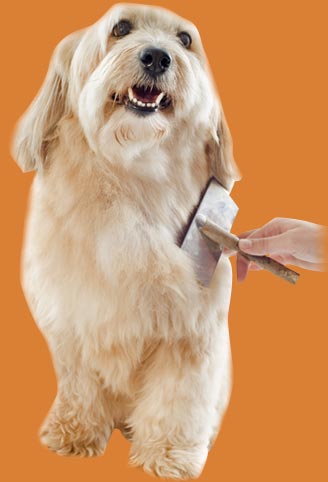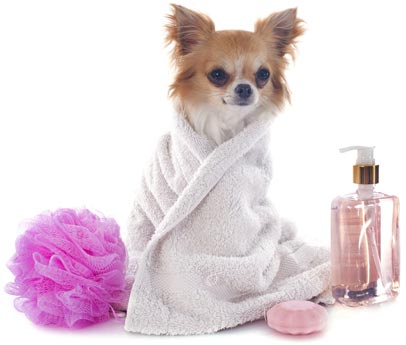 Treat Your Pet to a Spa Day
At Complete Pet Care, we offer spa services that include a warm bath and salon-grade shampoo. If you're visiting our Raleigh location for another service, such as a physical exam or dental cleaning, you can treat your pet to a spa day while you're there. One of our professional groomers can add this service that will help your dog or cat feel relaxed, refreshed and clean.
If your pet could benefit from a bath, haircut, nail trim or other grooming service, schedule an appointment today.