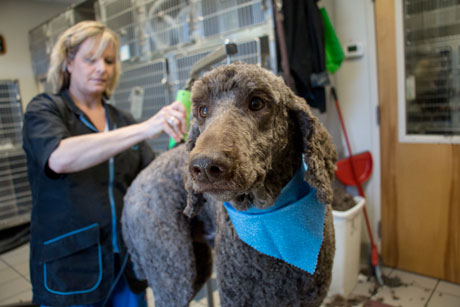 It's no secret pets bring joy, love and companionship into a pet owner's life. That's probably why 65 percent of American households own a pet. Millions of people spend billions of dollars ensuring their pet is healthy, comfortable and happy, and spending is only expected to increase in the next year.
Here's what pet owners are spending their time and money on in 2016:
Pet Safety
Whether you live in busy downtown Raleigh or in quiet Morrisville, collars and leashes for your pets are a must. The 2016 trend leans toward pet comfort when it comes to keeping them close; more owners are choosing to use a harness when walking their pet.
Using a harness helps prevent neck injuries, such as a collapsed trachea, particularly for dogs who pull forward when being walked. One study found pet owners prioritize durability, comfort and safety when shopping for collars and leashes. While you'll still be able to find collars with patterns and rhinestones, you'll also see more options that will help keep your pet safe.
And for those hot North Carolina summers, it can be hard to keep your pet cool, comfortable and hydrated. To help dogs stand up to the heat, products such as booties to protect their paws from hot pavement and cooling collars, vests and beds are available.
Pet Health
Pet health is always a top priority for pet owners. The top health trends for 2016 include managing the health of overweight pets and aging pets. This is because more than half of the dogs and cats in the United States are overweight or obese, and nearly half of pet owners have a senior dog or cat in their home.
If your pet is overweight or aging – or both – you should see more options for products and services to help manage your pet's health. You should consult with a veterinarian who can advise you on the right food, vitamins, supplements and exercise your overweight or aging pet needs to stay healthy as long as possible.
Going Green
The demand for green, also known as eco-friendly, materials spans from food to leashes and from treats to litter. Examples of green pet supplies include:
Cork collars, which are durable, lightweight and hypoallergenic
Fleece-lined collars, which are also hypoallergenic and can help prevent neck rashes or other skin reactions to synthetic materials
Natural kitty litter, an alternative to clay litters (which can contain carcinogenic chemicals)
Nontoxic chew toys
Chemical-free tick treatment
Contact us today to discover how we can help with your pet ownership needs.
Pet Treats
All pet owners treat their pets differently. Some people train their dogs to respond quickly and to sleep in a dog bed in the living room. Other people welcome their dogs on vacations and snuggle with them as they go to sleep. One study found more people are doing the latter, humanizing their pets and treating them as family members.
With this in mind, the purpose of treats is shifting. Pet owners are no longer picking up treats at the pet store or grocery store solely for training purposes. Instead, treats are being used as a way to say "I love you" or "You make me happy" to pets. In 2016, keep your eye out for more variety in flavors and sizes for pet treats.
Pet Grooming
Pet grooming consistently grows in demand and revenue each year, even during years when the economy is experiencing a recession. The growth can be attributed to more homes owning pets and to the increased diversity of grooming options.
Standard grooming includes bathing, cutting fur and trimming nails. Now, the grooming trends in 2016 include:
Dyeing pet fur with colored chalk
Painting pets' nails with nail polish
Shaping the fur on a dog's head into a cube
Fur extensions
Feather extensions for fur
Pet Parent Convenience
Being a pet parent requires time and energy. Sometimes it's easier and more convenient for pet parents to pay others to help keep their pet clean, happy and healthy. To address the needs of time-crunched pet parents out there, more and more pet stores are offering a multitude of services including grooming, cleaning, walking and boarding.
Pet Indulgence
Just like treating a loved one to the finer things in life is a way to show affection, more people are doing the same for their pets. Pet indulgence trends for 2016 include services such as pet massages, pet personal training, pet spas and party planning for pets.
In addition to indulgent services, high-end doghouses and travel requests, such as a dog bed and meal in hotels, are becoming more popular and accessible. Some pets even live such a luxurious life that it's documented on social media sites such as Facebook and Instagram.
We offer some of these trending services, such as grooming, to all pets in Raleigh, Wake Forest and all areas in and around the Triangle.

Sources:
http://www.prnewswire.com/news-releases/top-trends-in-pet-products-exploring-the-pet-care-and-pet-food-categories-300232038.html
http://www.petage.com/harnessing-the-latest-trends/
http://blogpaws.com/executive-blog/2016-trends-in-the-pet-industry/
http://jacksongalaxy.com/2014/09/29/the-benefits-of-natural-litter/
http://www.ibisworld.com/industry/default.aspx?indid=1735
http://www.cesar.com/live-the-life/just-for-fun/New-Trends-in-Dog-Grooming.aspx
http://www.dogster.com/lifestyle/summer-dog-health-tips
http://www.sheknows.com/pets-and-animals/articles/1091933/luxury-pet-services
https://getleashedmag.com/2014/08/06/the-reigning-queens-of-doggy-indulgence/