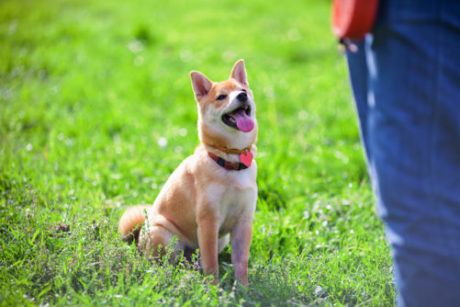 Could your dog benefit from a little training? If your furry friend doesn't come when called, jumps on visitors or can't properly walk on a leash, creating a dog training plan is an excellent way to ensure that your pet learns these important skills.
After all, our furry friends don't innately understand how we expect them to behave. Just like children, dogs need to be taught proper manners.
If your dog is already perfectly behaved, you may want to develop a plan to enhance previous training or help your pet learn fun new skills. No matter what type of training your dog needs, these three steps will help you develop a plan.
Identify Training Needs
Identifying the type of training your dog needs is a key part of any training plan. Basic obedience training is usually recommended if your pet recently joined your household, is a puppy, or has had previous training but hasn't quite mastered every skill. Puppy training offers an excellent way to introduce obedience training gradually in an age-appropriate way. Obedience training usually includes a combination of behavioral training (such as teaching your dog not to jump on guests) and obedience skills (walking on a leash).
If you want to obtain Canine Good Citizen certification from the American Kennel Club, the training plan for your dog must focus on the skills that will be tested during the certification process, such as reacting appropriately to another dog, navigating a crowd, walking on a leash, and following the sit and down commands.
Many dogs enjoy mastering the obstacle courses that are part of canine agility training. If your dog is active and enjoys learning new skills, agility training can provide a good way for them (and you) to get a little exercise, whether you plan to enroll your dog in an agility training class or conduct the training yourself.
Decide Which Training Option Is Right for Your Pet
Before you put your dog training plan into action, you must decide which of these training options is best:
Owner Training: Owner-led training offers the greatest flexibility. You can train when it's convenient for you and don't have to rearrange your schedule to attend a class. However, owner training may not be the best choice if you've never trained a dog before, don't feel confident, or have a very dominant dog.
Instructor-Led Classes: Obedience classes led by an instructor are a popular option. During classes, the instructor doesn't train your dog, but instead teaches you how to train your dog. Many types of classes are offered, ranging from puppy training to agility training to vocational classes for service animals. Although obedience classes can be very helpful, you may not need them if you have already successfully trained several dogs. A classroom setting may not be the best choice if your dog is aggressive around other dogs. Private sessions with an instructor may be a better option in this case.
Dog Camps: If you choose the dog camp option, your dog boards at the camp for several weeks and learns behavioral and obedience training from an instructor. Dog camps can be a good idea if you are too busy to participate in training. Since your dog learns to respond to commands from an instructor instead of you, some dogs may not be willing to follow your commands when they return home.
Put Your Dog Training Plan into Action
After you've identified your needs and decided which type of program is best, you can finally begin the training process. If you will train your dog yourself, you'll want to make sure that you've brushed up on dog training basics. The internet offers plenty of information for novice trainers on websites like Cesar's Way,  Petfinder, and the Humane Society of the United States. If you plan to conduct agility training sessions in your backyard, you'll need to buy a few pet supplies to build your obstacle course, such as tunnels and weave poles.
Finding the right obedience class can be a little challenging. In addition to finding a class that fits your schedule, you'll also want to ensure that the instructor's style meshes with your own. Many programs allow you to sit in on a class before you make a decision. The best instructors have plenty of experience and are certified by a major obedience organization, such as the Association of Professional Dog Trainers or the National Association of Dog Obedience Instructors.
If you've decided that a dog camp is the best choice for you and your pet, it's important to check online reviews, in addition to paying a visit to the facility. Make sure that the program you choose addresses all the training issues you consider important. Instructors, whether at local obedience classes or dog camps, should not resort to yelling or violence to train pets. It is recommended that you speak to one of the best vets in Raleigh to ensure your dog is in good health prior to beginning  any training program.
In fact, obedience classes and dog camps may require a clean bill of health from a veterinarian before accepting your pet. Before you set your dog training plan in motion, contact us to schedule an appointment.

Sources:
Cesar's Way: Different Kinds of Dog Training
Cesar's Way: 5 Essential Commands You Can Teach Your Dog
Petfinder: Top 10 Dog Training Tips
The Humane Society of the United States: How to Teach Your Dog Commands
American Kennel Club: Canine Good Citizen Training & Testing