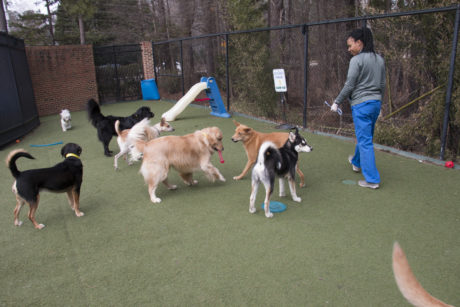 As pet owners, sometimes we wish we could bring our furry friends with us everywhere we go. For the times we can't, we want to be sure our pets' stay away from us is as safe, comfortable and pleasant as possible. Luckily, pet boarding facilities can offer all those reassurances and more. With the right fit for your pet, boarding will be stress-free and offer all the comforts of home – plus a fun, social experience your pet can't get anywhere else!
Choosing a Pet Boarding Facility
Chances are, there are quite a few boarding options near you, and all of them will tout different benefits.  Only you will know what's best for your pet, but here are some guidelines to help narrow down your search:
Visit the facility if you can. For your protection and to keep the boarded pets as calm as possible, some facilities may not allow visitors in the dog kennels themselves, but you should be able to get a good sense of your pet's potential surroundings. The staff should be friendly, attentive and willing to answer your questions. The facility should smell pleasant and look clean. If you're able to see the kennel itself, the area where pets sleep should be large enough for their size and well-kept, with plenty of access to fresh water.
Inquire about additional services. If you have a dog who needs plenty of exercise, find out if the dog boarding facility offers frequent walking or large areas for them to run and play. If your dog likes to socialize, find out if group play is offered. If your cat enjoys one-on-one play with people, some facilities offer that as well. Additionally, some facilities offer grooming services so your pet can go home feeling fresh and clean.
Decide if an animal hospital might be your best bet. If your pet's veterinarian offers boarding services, this may be an optimal choice. By taking advantage of veterinary boarding, you'll be leaving your pet with people who already know and love them. Not only will your pet's medical records be accessible at the touch of a button, you can rest assured that people you trust will be on hand to administer medication, observe any changes in behavior or wellness, and act quickly in the event of an emergency. With many veterinary boarding facilities offering services equal to ones at a dedicated kennel, owners don't have to choose between on-call veterinary care and boarding bells and whistles.
Contact us today to discover how we can help with your pet boarding needs.
Preparing for Boarding a Pet
Make boarding reservations as early as possible. While last-minute trips do come up, the earlier you can book your pet, the better. This will ensure that you can reserve a run at your first-choice facility and will give you a chance to inquire about supplies needed and request additional services. The more information both you and the facility have prior to check-in, the more stress will be alleviated on the day you leave.
Check that your pet meets all health requirements. Facilities' protocols may vary, but almost all of them will require that your pet be up to date on all vaccines, including Bordetella for dogs. Many will also want to see a clean intestinal parasite screen and proof of parasite preventive. Current vaccinations and preventives will protect your pet as well as any other animals they may come into contact with while boarding.
Set aside a clearly labeled bag or bin ahead of time. Fill it with everything your pet will need while they're away from you:
If the facility allows you to bring your pet's food from home, label it with their name and feeding schedule. Include any foods your pet may need to take medications.
If your pet will need any medication administered, include with their labeled bottles a typed or written sheet with all dosages and frequency. This will provide a backup for kennel staff.
Some facilities do not allow you to bring blankets or soft toys from home in the event they get soiled. If you are able to and your pet will feel more at home with them in their run, add them to the bag or bin.
Most facilities require a local emergency contact at drop-off, in addition to any ways to contact you while you're away. Writing out all this information ahead of time, including any additional instructions about behavior, socialization or health concerns, will speed up check-in and remove any guesswork for staff.
Dropping Off for Boarding
The more your pet can see boarding as a fun, social time with people who love and care for them, the easier the process will be for both of you. Because your pet associates excitable emotions with big events, keep the goodbyes calm and cheerful, especially for your canine family members. With the preparation you've done in advance, check-in will be relatively quick and your pet will be with their temporary caregivers and settled in before they know it.
Though nothing can replace spending time at home with your pets, the best vet in Raleigh offers the right boarding facility with love and care for them as though they were our own pets. With care, preparation and the perfect fit, your pet will feel the same comfort and companionship they experience with you and come home just as happy and healthy as when they left.