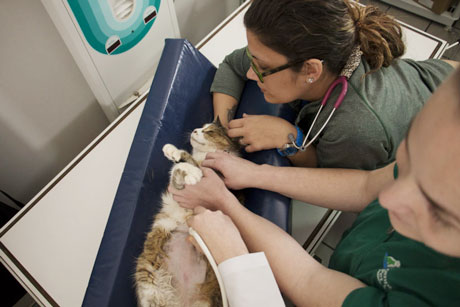 Proactive care for our pets is extremely important, but emergencies and accidents do happen. When that's the case, it's understandable that fear and anxiety can make thinking clearly almost impossible. That's why having a plan well in advance can put your mind at ease so you know you'll be able to get your furry family member the best possible care right when they need you most.
Preparing for an Emergency
Ideally, you'll never need to seek out emergency care for your pet, but in the event it's necessary, there are a few steps you can take in advance:
Find your local 24-hour emergency veterinarian. Most metropolitan areas have one, but if not, you may need to travel a city over for care if your pet's regular vet will be closed for more than several hours longer. You may want to map out a route to the hospital and even take a test drive there at night. Check the hospital's website or call during daytime hours for check-in protocol. Some emergency hospitals can expedite triage if you call en route, and giving the hospital a heads-up can allow their veterinarians and technicians to have the appropriate equipment at the ready.
Keep a pet first-aid kit and other supplies on hand and in a convenient place so you can locate them quickly. This can include:

Gauze and bandages
Hydrogen peroxide to induce vomiting. Be aware that this should never be administered without the instruction of a veterinarian.
Clean, old towels
A board to fashion a makeshift stretcher
Temperature-stable single-use ice packs
Keep a list of your pet's current medications as well as an updated vaccination record in your car. Emergency hospitals often will be unable to access your pet's medical history until their general veterinarian opens, so having an idea of possible medication reactions as well as knowing what they're already vaccinated against will save a considerable amount of time.
If possible, find a way to secure funds. This can be as simple as an arrangement with a friend or family member for financial assistance at a moment's notice. You can also establish a separate savings account for emergency funds or explore opening a veterinary/medical services credit card. Pet health insurance may also be a good option for you and your family. When your pet is in distress, the last thing you'll want to have to worry about is how to pay for treatment.
Contact us today to discover how we can help with your emergency veterinarian needs.
Knowing When to Pursue Treatment
Precipitating events such as traumatic injury, toxic substance consumption, insect sting, choking, or other life-threatening instances can necessitate emergency care. There may also be acute, serious symptoms of illness that crop up unexpectedly. Some signs that emergency intervention may be needed include:
Pale gums. It's a good idea to check your pet's gums when you know they're healthy to get an idea of their normal gum color.
Rapid/labored breathing
Collapsing
Seizures
Loss of consciousness
Apparent paralysis
Difficulty standing
Excessive bleeding
Inability to urinate. This is a medical emergency in male cats especially.
Sudden apparent pain
Excessive vomiting and diarrhea, especially if accompanied by blood
If your pet displays any of these signs, call the emergency hospital immediately as you prepare to transport your pet. Emergency customer service representatives are trained to walk pet owners through all the information the veterinarians need, so answer their questions as carefully as you can. Depending on your pet's emergency, the vet may have instructions for care on the way.
Once you've determined that your pet needs emergency care, approach them gently and calmly. Your first priority will be to get your pet in the car without causing further trauma. Wrap your cat up in clean towels and place them carefully in their carrier. If your dog can't walk, stabilize them on a makeshift stretcher or keep their affected limb(s) immobile to bring them to the car.
Additional Emergency Response to Perform at Home
Occasionally, you may need to perform time-sensitive pet first aid to transport them or while en route to the hospital. Having to perform these procedures can be overwhelming and frightening, so familiarizing yourself with them when your pet is safe and healthy will go a long way toward being able to know what to do in an emergency.
To slow down or stop external bleeding: apply pressure to the wound and elevate if on a limb.
If your pet is choking: first try manually removing the object with your fingers. If this fails, try a version of the Heimlich maneuver designed for dogs.
Veterinary emergencies are frightening. We love our pets and can't explain to them why they're sick or in pain. That's why preparation can go a long way to easing anxiety and helping pet owners make clear-headed decisions in overwhelming moments. These small steps can make a scary situation just a little bit easier, which benefits pets and their owners alike.